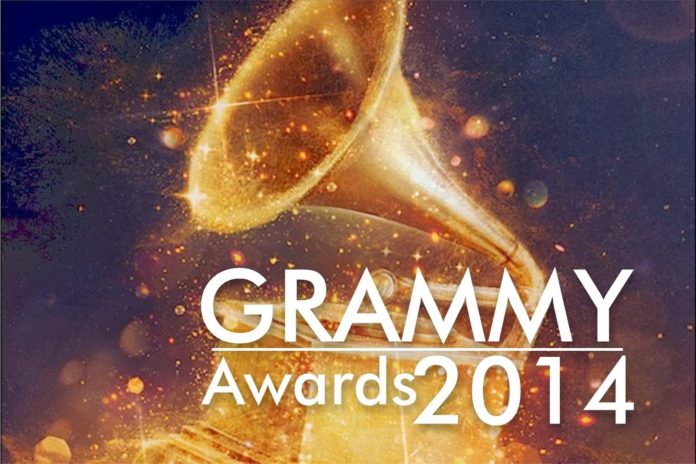 Aquesta passada matinada, hora catalana, s'ha realitzat la gala dels premis Grammy, on han triomfat els Daft Punk, gràcies al seu bon retorn amb Random Access Memories, que s'ha emportat el disc de l'any o el premi a la millor gravació de l'any per Get Lucky.
També ha estat la nit de Macklemore & Ryan Lewis, que han guanyat 4 premis, entre ells el de millor nou arista i millor àlbum rap.
La debutant, Lorde, va guanyar els premis a millor cançó, per Royals i millor actuació en solitari.
Pel que fa a les actuacions, vam poder gaudir dels Daft Punk, després de molts anys sense trepitjar un escenari, i al costat del gran Stevie Wonder. No hi va faltar Pharrell Williams, un dels homes del moment.
Beyoncé, va cantar al costat de la seva parella, Jay-Z, una de les noves cançons, Drunk in love. Macklemore & Ryan Lewis, van cantar al costat de Madonna, mentre que Pink & Nate Ruess, van cantar el conegut Just give me a reason.
També els Beatles, Paul McCartney i Ringo Starr, van actuar junts, interpretant el tema Queenie Eye.
Però l'actuació més comentada, va ser la que va tancar la gala. Nine Inch Nails, Queens Of The Stone Age i Dave Grohl, van cloure la vetllada interpretant Copy of A i My God is the sun, aquesta última amb força polèmica, degut a les interrupcions que la CBS va fer, incloent al final imatges dels patrocinadors i els títols de crèdit, fet que va provocar una piulada de Trent Reznor, comentant que havia estat una gran nit de la música, insultada. I ho va acabar amb un "que us donin pel cul de tot cor a tots".
Llista de guanyadors en les principals categories
Gravació de l'any
Get Lucky – Daft Punk & Pharrell Williams
Radioactive – Imagine Dragons
Royals – Lorde
Locked Out Of Heaven – Bruno Mars
Blurred Lines – Robin Thicke feat. T.I. & Pharrell


Disc de l'any
The Blessed Unrest – Sara Bareilles
Random Access Memories – Daft Punk
Good Kid, M.A.A.D City – Kendrick Lamar
The Heist – Macklemore & Ryan Lewis
Red – Taylor Swift
Cançó de l'any
Just Give Me A Reason – Jeff Bhasker, Pink & Nate Ruess, compositors (Pink & Nate Ruess)
Locked Out Of Heaven – Philip Lawrence, Ari Levine & Bruno Mars, compositors (Bruno Mars)
Roar – Lukasz Gottwald, Max Martin, Bonnie McKee, Katy Perry & Henry Walter, compositors (Katy Perry)
Royals – Joel Little & Ella Yelich O'Connor, compositors (Lorde)
Same Love – Ben Haggerty, Mary Lambert & Ryan Lewis, compositors (Macklemore & Ryan Lewis con Mary Lambert)
Nou artista
James Blake
Kendrick Lamar
Macklemore & Ryan Lewis
Kacey Musgraves
Ed Sheeran
Interpretació solista pop
Brave – Sara Bareilles
Royals – Lorde
When I Was Your Man – Bruno Mars
Roar – Katy Perry
Mirrors – Justin Timberlake
Interpretació duet/grup pop
Get Lucky – Daft Punk & Pharrell Williams
Just Give Me A Reason – Pink feat. Nate Ruess
Stay – Rihanna feat. Mikky Ekko
Blurred Lines – Robin Thicke feat. T.I. & Pharrell
Suit & Tie – Justin Timberlake & Jay Z
Àlbum pop vocal
Paradise – Lana Del Rey
Pure Heroine – Lorde
Unorthodox Jukebox – Bruno Mars
Blurred Lines – Robin Thicke
The 20/20 Experience – The Complete Experience – Justin Timberlake
Àlbum dance / electrònica
Random Access Memories – Daft Punk
Settle – Disclosure
18 Months – Calvin Harris
Atmosphere – Kaskade
A Color Map Of The Sun – Pretty Lights
Àlbum pop vocal tradicional
Viva Duets – Tony Bennett & Various Artists
To Be Loved – Michael Bublé
The Standards – Gloria Estefan
Cee Lo's Magic Moment – Cee Lo Green
Now – Dionne Warwick
Interpretació rock
Always Alright – Alabama Shakes
The Stars (Are Out Tonight) – David Bowie
Radioactive – Imagine Dragons
Kashmir – Led Zeppelin
My God Is The Sun – Queens Of The Stone Age
I'm Shakin' – Jack White
Interpretació metal
T.N.T. – Anthrax
God Is Dead? – Black Sabbath
The Enemy Inside – Dream Theater
In Due Time – Killswitch Engage
Room 24 – Volbeat con King Diamond


Àlbum rock
13 – Black Sabbath
The Next Day – David Bowie
Mechanical Bull – Kings Of Leon
Celebration Day – Led Zeppelin
…Like Clockwork – Queens Of The Stone Age
Psychedelic Pill – Neil Young With Crazy Horse
Àlbum música alternativa
The Worse Things Get, The Harder I Fight, The Harder I Fight, The More I Love You – Neko Case
Trouble Will Find Me – The National
Hesitation Marks – Nine Inch Nails
Lonerism – Tame Impala
Modern Vampires Of The City – Vampire Weekend
Àlbum urbà contemporani
Love And War – Tamar Braxton
Side Effects Of You – Fantasia
One: In The Chamber – Salaam Remi
Unapologetic – Rihanna
New York: A Love Story – Mack Wilds
Àlbum R&B
R&B Divas – Faith Evans
Girl On Fire – Alicia Keys
Love In The Future – John Legend
Better – Chrisette Michele
Three Kings – TGT
Interpretació rap
Started From The Bottom – Drake
Berzerk – Eminem
Tom Ford – Jay Z
Swimming Pools (Drank) – Kendrick Lamar
Thrift Shop – Macklemore & Ryan Lewis feat. Wanz
Col·laboració rap
Power Trip – J. Cole & Miguel
Part II (On The Run) – Jay Z & Beyoncé
Holy Grail – Jay Z & Justin Timberlake
Now Or Never – Kendrick Lamar & Mary J. Blige
Remember You – Wiz Khalifa & The Weeknd
Àlbum rap
Nothing Was The Same – Drake
Magna Carta…Holy Grail – Jay Z
Good Kid, M.A.A.D City – Kendrick Lamar
The Heist – Macklemore & Ryan Lewis
Yeezus – Kanye West
Cançó per banda sonora
Atlas – Guy Berryman, Jonny Buckland, Will Champion & Chris Martin, compositors (Coldplay) – The Hunger Games: Catching Fire
Silver Lining – Diane Warren, compositor (Jessie J) – Silver Linings Playbook
Skyfall – Adele Adkins & Paul Epworth, compositores (Adele)
We Both Know – Colbie Caillat & Gavin DeGraw, compositors (Colbie Caillat & Gavin DeGraw) – Skyfall
Young And Beautiful – Lana Del Rey & Rick Nowels, compositors (Lana Del Rey) – The Great Gatsby (Deluxe Edition)
You've Got Time – Regina Spektor, compositor (Regina Spektor) – Orange Is The New Black
Productor de l'any
Rob Cavallo
Dr. Luke
Ariel Rechtshaid
Jeff Tweedy
Pharrell Williams
Vídeo
Safe And Sound – Capital Cities
Picasso Baby: A Performance Art Film – Jay Z
Can't Hold Us – Macklemore & Ryan Lewis & Ray Dalton
Suit & Tie – Justin Timberlake & Jay Z
I'm Shakin' – Jack White
Pel·lícula musical
Live 2012 – Coldplay
¡Cuatro! – Green Day
I'm In I'm Out And I'm Gone: The Making Of Get Up! – Ben Harper With Charlie Musselwhite
Live Kisses – Paul McCartney
The Road To Red Rocks – Mumford & Sons
Actuacions musicals
PINK & NATE RUESS
PAUL MCCARTNEY & RINGO STARR
LORDE